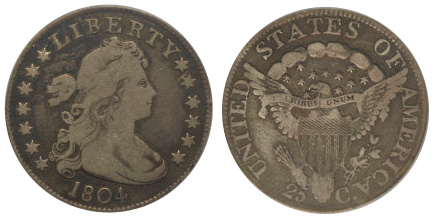 The 1804 Draped Bust Quarter represented the second year of mintage for both the denomination and series. The mintage was a scant 6,783 pieces, only slightly higher than the 1796 quarter.
As opposed to the previous issue, far fewer examples were initially saved, resulting in a greater proportion of surviving coins in circulated condition. Demand for this issue is lower than for the 1796, since type set collectors have the option of pursuing the subsequent higher mintage issues for an example of the subtype. However, when offered for sale in high quality, this coin still attracts major attention.
Uncirculated examples are true rarities, and seldom offered for sale, as are truly attractive specimens with original toning. Above average examples can easily sell for multiples of of the price achieved fro average examples, as many people realize the value that can be found in original and historic coins.
The single finest certified 1804 Quarter, graded NGC MS 65 and pedigreed to Colonel E.H.R. Green, sold for $310,500 at an auction held in April 2008.