The 1796 Draped Bust Quarter (Buy on eBay) represents the first year of issue for the denomination, a one-year type coin, and a low mintage key date. These factors combine to drive considerable demand for the issue, which had an original mintage of only 6,146 pieces.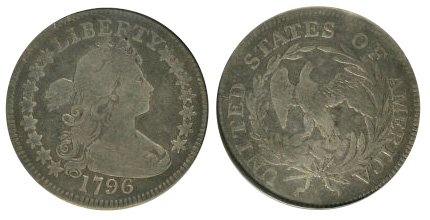 Despite the low mintage, a surprisingly large number of 1796 Draped Bust Quarters have survived in uncirculated condition. It appears that many of the coins were saved from circulation at the time of original release.
Nonetheless, the issue remains far from common. At any given time, collector demand for the issue far outweighs supply with high-grade examples and problem-free coins commanding strong premiums.
The finest known example of the coin has been graded NGC MS-67+ with the star designation to denote exceptional eye appeal. The coin traces its pedigree to the Col. E.H.R. Green collection. When offered at auction in 2013, the coin sold for $1,527,500, representing a record price for the issue.