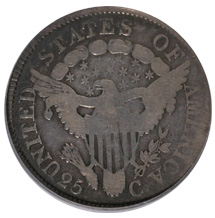 All issues of the Draped Bust Quarter series are considered to be scarce. Mintages remained extremely limited during the first two years of issue in 1796 and 1804, with production increasing for 1805, 1806, and 1807. During the final three years of the series more than 500,000 coins would be produced, making these dates relatively obtainable.
The lowest mintage coin was the important 1796 quarter at 6,146 pieces, followed by the 1804 quarter with a mintage of 6,738.
As is generally the case for U.S. coins that are more than 200 years old, finding problem free examples can be difficult, but some premium quality pieces can be located with patience and a keen eye. Since high quality pieces are rare, they usually attract a good deal of attention from advanced type set collectors.
For specialized collectors of the series there are a large number of varieties, but few people have created the goal of completing a complete set of die varieties. If completed, however, it would make for a remarkable display.
Draped Bust Quarter Mintages
| Issue | Mintage |
| --- | --- |
| 1796 | 6,146 |
| 1804 | 6,738 |
| 1805 | 121,394 |
| 1806 | 206,124 |
| 1807 | 220,643 |